Czech Association of Medical Physicists
The organization was established as a voluntary civic association of physicists working in medicine, especially radiological physicists, or other persons and legal entities, which have an interest in physics in medicine and its development.
The association was established to defense the aims of physicists in medicine.
Contacts
Contact address
Ing. Lucie Súkupová, Ph.D.
president of CAMP
IKEM Directorate
Vídeňská 1958/9
140 21 Praha 4

Bank account
Fio banka, a. s.
117 21 Praha 1
Account number: 2000805932/2010

Tel.: (+420) 236 053 056
E-mail: csfm@csfm.cz

IČO: 266 60 482
CAMP is national member organisation of European Federation of Organizations for Medical Physics EFOMP

and national member organisation of International Organisation for Medical Physics.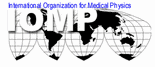 CSFM logo created by Leona Francova (LF-design_at_outlook.com)